Answer to Image of the Month July 2012
Sporotrichosis.

The structure in the image is the yeast form of Sporothrix schenkii surrounded by a Splendore-Hoeppli phenomenon occurring in a ray-like pattern forming the asteroid body of sporotrichosis (not to be confused with the asteroid body of sarcoidosis which is smaller, seen within giant cells and composed of collagen and vimentin.) The picture was from a PAS stained slide.
This particular biopsy was taken from a man with plaques scattered over his skin, some ulcerated as seen in the clinical pictures.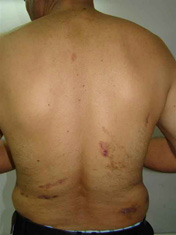 The clinical images were kindly supplied by Dr Binod Khaitan who is looking after this patient of disseminated sporotrichosis in whom biopsy was crucial to making the diagnosis.